An entertaining opera in Spanish
Come, come and behold, your graces!
Be seated…
As Don Quixote gallops along the trail on his steed Rocinante, he finds puppet theater run by puppeteer Master Pedro and his helper Trujamán…
Join Don Quixote in this quest and see how the story ends
"We will find a work divided in three contexts. First, there's the story as told by the singers, which is that of Don Quixote finding the traveling puppet show. Then there's the context of the puppet theater itself, where a combination of animation and two-dimensional puppets tells the story of Melisendra, who is held captive. Lastly, we have the orchestra, which narrates and uses music to depict the actions that take place both in the puppet theater and in real life." explains conductor Alejandro Roca.
Manuel de Falla's Master Pedro's Puppet Show is the first opera production by Orquesta Filarmónica de Medellín, and it's the first time it will be performed in Colombia. The production will arrive to the stage under the baton of maestro Alejandro Roca and scenic direction of Pedro Salazar, with tenor Christian Correa (Maese Pedro), mezzo soprano Laura Mosquera (Trujamán), baritone Nelson Sierra (Don Quijote) and scenographer Pablo Castillo.
Master Pedro's Puppet Show is presented by the Filarmed-Comfama partnership, with support from the Embassy of Spain in Colombia, and broadcasted from the Teatro Universidad de Medellín.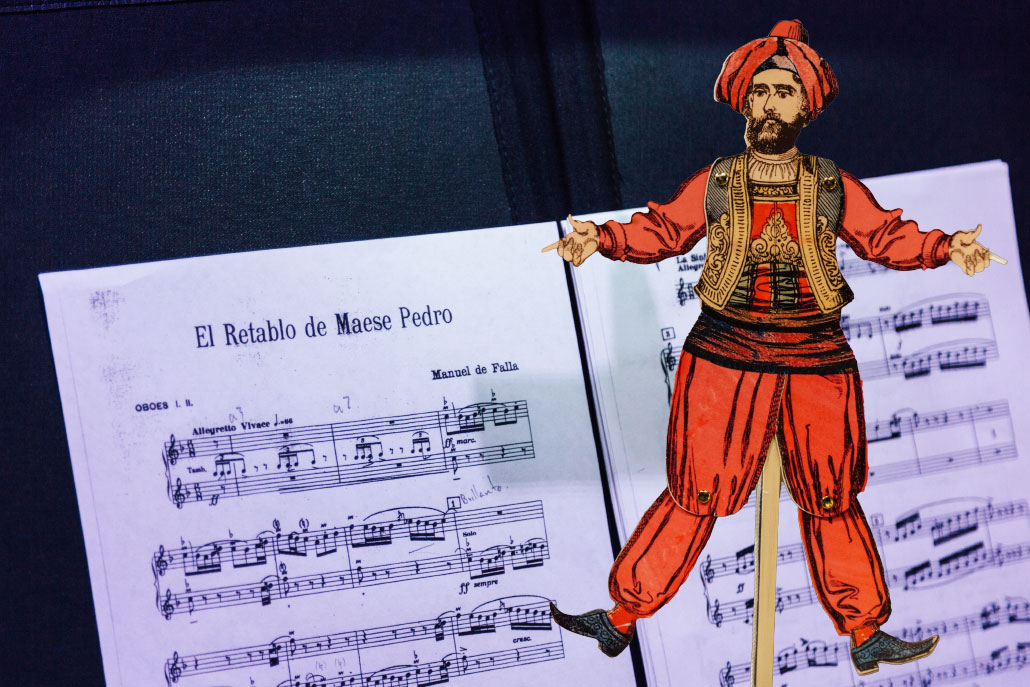 The work
Master Pedro's Puppet Theater is an opera in Spanish, written by Manuel de Falla for three singers and puppets. Its libretto was inspired by a scene from Don Quixote. The work was written to be performed at the private concerts and private performances held by the princess of Polignac, to whom the work is dedicated along with Miguel de Cervantes, author of Don Quixote.
This work gathers scenes from chapters XXV and XXVI of the second part of Don Quixote, where the puppetmaster, Maese Pedro, appears and tells the story of Melisendra, the wife of Don Gaiferos, who was being held captive by king Marsilio. When she is rescued by her husband, they are chased by the moors, and Don Quixote, confusing reality and imagination, intervenes to save the fugitive puppets.
Opera, music and puppets
Manuel de Falla considered puppet theatre to be the ideal medium to stage his innovative ideas because of its popular appeal and its comical aspects, and above all, for its artificial characters, which offered expressive possibilities beyond human representation. "For many years, human beings have experienced the need to express themselves and represent the world through figures made of cardboard, wool or wood, in order to transcend reality in a ludic and figurative way. Using puppets and marionettes constitutes an artform as ancient as civilization itself, because they have been used to represent the most profound and superfluous aspects of individuals and society".  Folklore magazine
Scenographer Pablo Castillo, says he designed the scene and costumes in the style of 20th century Medellín. "The puppet theatre is a representation of the now-gone Teatro Bolívar, which was demolished in 1954. The Bolivar was the main theater in Medellín and was the stage where many ballet and theatre companies, and soloists performed. Beyond a journey to the past, this is a reflection on our present and future." Pablo explains.
¿Who was really Maese Pedro?
He was a thief, a fugitive, one of Don Quixote's most puzzling characters. One more reason to approach this musical version of one of the most entertaining stories that Cervantes wrote in Don Quixote.
"Don Quixote lives in us, in our culture and hispanic identity. We can even see these characters walking our streets. Further, it's a work in Spanish by Manuel De Falla, that proposes a unique and approachable musical universe. Pedro Salazar, stage director.
The cast
Christian Correa (Maese Pedro)
Second prize and an honorable mention to the best tenor at the XXII Concurso Internacional de Canto Lírico Ciudad de Trujillo, Perú (2019)
First prize in the excellence category of the Concurso Nacional de Canto Orquesta Filarmónica de Bogotá (2019)
Received a scholarship from Fundación Carolina to pursue his master's at the Conservatorio del Liceu in Barcelona.
Has performed with Ópera de Colombia, Ópera Civil and Festival de Ópera al Parque, among others.
Nelson Sierra (Don Quijote de la Mancha)
Graduated from the Universidad de Antioquia
Had his Canadian debut at Opera Ontario, where he is a member of The Canadian Actors Equity Association. Has participated in productions like como Il Barbiere di Siviglia, Carmen and La Traviata, among others.
Has performed in concerts organized by the Embassy of Colombia in Nowrawy, Turkey, and Egypt.
Laura Mosquera (Trujamán) 
Soloist with Hamburg Symphony, Colombia's National Symphony, Sinfónica EAFIT and Fundación Prolírica de Antioquia, among others.
Has performed as soloist at Teatro Metropolitano and Belgium's Royal Library.
Has played roles like Bradamante inn Alcina and Margot in the zarzuela La Leyenda del Beso; and Mons in the recreation of baroque opera Le
Retour des Plaisirs, staged by acclaimed director de Guy van Waas, entre otras.
Alejandro Roca, director musical
Une of the country's leading opera figures.
Has conducted the production of Sorozábal's Black el payaso, with Colombia's National Symphony (2015), Mozart's Bastien und Bastienne and Der Schauspieldirektor, de Mozart, with the National Opera, and the Bogota Symphony, Britten's Midsummer Night's Dream, with Bogota's Youth Philharmonic, Rossini's La Cambiale di Matrimonio, Roig's zarzuela Cecilia Valdés, and Bernstein's Candide, de Bernstein, among others.
Has collaborated with conductors like Gustavo Dudamel, Rinaldo Alessandrini, Andrés Orozco-Estrada, Hilary Griffiths, Patrick Fournillier, and Miguel Roa.
"Maese Pedro's Puppet Theater is a great way to approach the opera for Hispanic audiences. Firstly, because of the language and the fact that it's only 30 minutes long. Also, because it's based on one of the episodes in Don Quixote, a pillar of Spanish languaje literature. This entertaining performance is a fantastic way to connect with literature, opera and our language." Alejandro Roca, conductor.
Sunday, June 13th
11:00 a. m.
La Tiquetera View
Tickets: $ 9.00 USD approx. (price subject to exchange rate)
Purchase your tickets at: https://latiquetera.com/evento/opera-infantil-el-retablo-de-maese-pedro
https://filarmed.org/wp-content/uploads/2021/05/Web1-1.jpg
687
1030
Karol Dahiana Moreno Rodriguez
https://filarmed.org/wp-content/uploads/2021/02/logo-filarmed-1.png
Karol Dahiana Moreno Rodriguez
2021-05-25 16:25:42
2022-04-05 17:34:30
Master Pedro's Puppet Show, by Manuel de Falla